How Retailers Use Mobile Apps to Challenge Amazon
Everyone from your boss to your grandma has said it—Amazon is taking over retail. As the company's market share increases, brick-and-mortar retail sales have steadily decreased.
To fight back against Amazon, retailers know that they can't compete with Amazon on convenience or speed, so they focus their efforts in an area where Amazon can't make the same kind of improvements: customer experience.
Amazon has dominated retail over the past decade through an obsessive focus on the customer experience. Between offering two-day shipping and a generous return policy on thousands of products, Amazon is constantly innovating.
For retailers, beating Amazon in customer experience isn't a matter of trying to succeed in the same areas, such as quick shipping. It's finding different ways to improve their customer experience that play to their business' unique strengths.
And the mobile customer experience is a key area retailers can win in against Amazon.
Why Retailers are Focusing on Mobile
When businesses brainstorm how to improve their customer experience, they think about their key buyers' favorite ways of shopping. Identifying these preferences shows businesses where they need to focus in order to create their customers' ideal shopping experience.
In 2018, that area of focus is mobile commerce. Over the past few years, mobile commerce has grown massively popular amongst shoppers. In 2014, mobile commerce (m-commerce) made up 11.6% of e-commerce sales. In Q4 2017, mobile commerce via apps made up 44% of e-commerce transactions.
With this boom of mobile commerce, retailers know that a superior customer experience depends on the strength of their apps.
To compete against Amazon, though, these retailers can't just throw together a generic app that's a replication of their online store. Simply putting up their catalog on an app is no better than what Amazon offers—in fact, the marketplace most likely offers lower prices and faster shipping on the retailers' products through their own app.
Instead of just serving as an online store, retailers' mobile apps need to serve their holistic customer experience to attract Amazon's customers. When these apps play to the unique strengths of these retailers that Amazon can't offer, such as having thousands of store locations or specializing in a certain product type, they're a competitive advantage. They offer a superior customer experience that Amazon, even with its fast shipping and wide selection, can't provide, so customers have a reason to turn to the retailers instead of the marketplace giant. [Source]
Here's how Walmart, Home Depot, and IKEA are using their mobile apps to create a unique, competitive customer experience.
Walmart: Easier Payments and Returns
Offering two-day shipping and items in every possible category, the Amazon shopping experience is convenient—unless you're not satisfied with your order in-person.
Amazon shoppers are mainly basing their purchase on reviews and product photos, which are limited in conveying the physical aspects of a product. As a result, Amazon shoppers can be easily disappointed when they first see the product in-person and realize it doesn't meet their expectations—and then have to find a way to ship it back as a return.
With their app, Walmart brings the best of both online and physical store shopping. Customers can inspect, purchase, and return products in-person at the convenient fast pace of online shopping.
Fast Payments
Amazon and e-commerce have created an expectation that you can check out in seconds with a couple of taps of your phone. Meanwhile, the average wait in line at Walmart is 11 minutes. To meet customers' expectations, the retailer has to find ways of offering more seamless, faster checkouts.
The Walmart app is a major part of that effort. It enables a speedy in-store payment process while still allowing customers to inspect each product. Shoppers can use the app to scan items that they want to purchase after seeing them in-person and check the total of their purchase with tax as they add products.
[Source]
At the end of their shopping, customers can go to self-checkout and scan a QR code on their app to pay for the items all at once.
These app features allow Walmart to provide a fast shopping experience while also ensuring customer satisfaction. Just like an Amazon shopper, Walmart customers can monitor their order total and quickly purchase their items at once thanks to the store's app. At the same time, they can check each product in-person to make sure they're happy with the item and comfortable purchasing it.
Fast Returns
Returning products through online marketplaces like Amazon can be a hassle. Without a physical store, customers have to deal with printing out return labels, dropping off packages, and waiting for return shipping refunds (or not receiving any refund for return shipping).
Walmart eliminates these online return barriers with their app. Customers who have purchased goods through Walmart's website can easily return their items in-store by using the Mobile Express Returns feature. Users note on the app that they plan on returning an item in-store instead of packaging and shipping the item. At the location, they can fast-track through the customer service line by going in the Mobile Express lane to quickly complete their return.
Home Depot: Providing a Full Picture of Products
For many online stores, their shopping apps are just weak replications of their desktop version. Instead of providing more insights about products, the app just forces customers to squint and see the same product images and descriptions on a smaller mobile screen.
Rather than reproduce their website, Home Depot created an app that amplifies their entire shopping experience. The app presents their online store but also improves in-store shopping by guiding and educating customers about their products as they examine each item in-person. Using the app, Home Depot customers can easily find the products they're interested in and discover similar products in-person at stores.

Find items
Compared to typing a product name in Amazon's search bar, finding a product in a store as big as Home Depot can be a challenge. Each location
is the size of a warehouse with dozens of aisles and thousands of products, so looking for a single item can be a major task for a customer.
Home Depot eliminates this friction with its app's Product Locator feature. Customers search for the product, and the app will guide them to the exact spot in the store where the item is located. Losing no time in trying to find the product, customers can easily examine the item in-person to be certain that they want to purchase it.
Allowing customers to quickly and conveniently find products in-person, the Home Depot app guides shoppers to making an in-store purchase. [Source]
Image search
When Amazon customers view a product, they can see a list of related products below to help them discover other items that they also might enjoy. But they can't fully appreciate how the products are physically similar because they aren't seeing them in-person.
The Home Depot app makes it possible to discover similar items for a product you're viewing in-store. Users simply snap a picture of the product that they're viewing, and then the app will show a list of similar products that the user could check out in the store.
Suggesting similar in-store items, the app enables Home Depot shoppers to make much more informed purchases. Customers feel comfortable and satisfied with their purchase because they've viewed multiple similar products in-person, instead of just viewing product pictures online. [Source]
Item scan
Amazon users can always find product information in each listing, but this description isn't enough to fully assess the item. These shoppers still haven't seen the product in-person, so they don't know that they'll like the item until it's delivered.
With Home Depot's app, customers can fully judge products before they've made their purchase. Once they see an item in a store that they're interested in, they can scan the item with their phone to pull up the product's information.
Using the app, customers can easily check their initial in-person product perceptions with the product's info through the Scan feature.
Scanning, along with the Image Search and Find Items features on the Home Depot app allow shoppers to assess products more fully in-person than they could from just online shopping. [Source]
IKEA: Easing Online Shopping Decisions
When you order furniture online, you're never sure of what it will look like in your home. You can use provided measurements, but that still doesn't provide a complete visual idea. Unsure of whether the product will work in your home, and reluctant to deal with expensive, cumbersome furniture return shipping, many shoppers will avoid online furniture shopping altogether.
The furniture store IKEA built an app to eliminate these uncertainties for their shoppers. The app IKEA Place uses Augmented Reality technology so customers can preview how their furniture will look in their home and discover IKEA items that are similar to their existing furniture items that they already love.
Virtually test Ikea products
Unlike most online furniture shopping experiences, the IKEA Place app allows customers to preview what their products will look like in their home.
The process on IKEA's app is simple — the user takes a photo of a room in their home, selects an IKEA product on the app, and then places it in the photo of the room.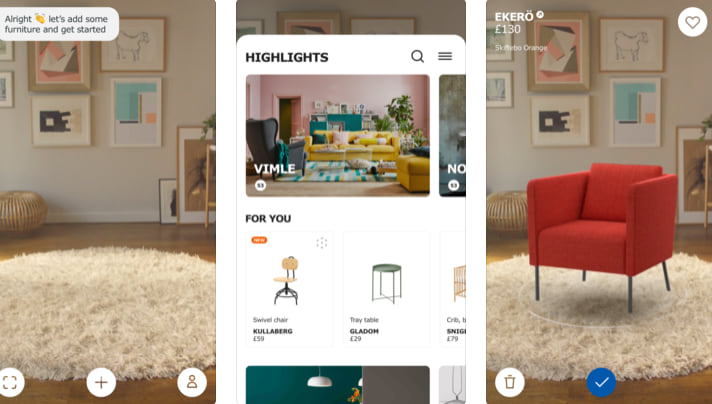 The app is a reliable indicator of whether IKEA's furniture will fit with a customer's home. It presents the furniture at the right scale with 98% accuracy and includes over 2,000 products, so customers can test a wide variety of furniture in their home.
Unlike a generic furniture shopping app, IKEA Place shows customers what their products will actually look like in their home so that they feel comfortable with their purchase.
Visual furniture search
Online stores typically only use their own images to figure out and show customers what products they think they'll love. IKEA Place takes a more helpful, innovative approach. Thanks to a recent update, the app now allows users to take photos of existing furniture that they own and like, and the app will show them similar IKEA products.
With this feature, the app is more personalized and useful to the customer. It would have been easier for the app to gather less informative insights, like browsing history, to make product suggestions. Taking the extra step, however, of learning about customers' preferences through visual search ultimately creates a more meaningful and helpful user experience.
Facing Goliath With Superior Mobile Commerce Apps
With more and more shoppers using mobile commerce, apps are an opportunity for retailers to offer a superior customer experience that Amazon can't provide. Using the major marketplace's app, Amazon shoppers still can't enjoy many of the perks that retailers can provide, such as seeing products in-person or completing postage-less returns.
These weaknesses present room for competition. Rather than just copying Amazon's app, top retailers have created apps to enhance their own unique business strengths, such as having many physical store locations or specializing in a certain product type. These apps give retailers a competitive advantage over Amazon in offering a different, yet still wonderful customer experience.
Header image: [Source]